a Comprehensive Approach to Creating Health & Happiness Through Lifestyle Balance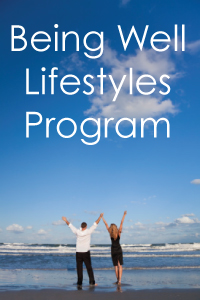 Are you feeling like your life is out of balance?
Do you feel like life is whizzing by, that time is moving faster and faster and that your stress is piling up higher and higher?
Do you wake up most mornings feeling your hand slam down on the snooze button and find yourself praying that somehow those extra 9 minutes will give you the energy to get out of bed?
Do you hear your body creaking and groaning like a worn out, rusted out bicycle that was left out in the rain one too many times?
Do you look at yourself at the mirror and wonder, "Where did that tired, run down, out of shape, person come from?"
Are you sick and tired of always feeling sick and tired?
Well if you are, then I've got good news for you… and I've got bad news for you.
Which do you want first?
OK, the bad news first (I always liked getting the bad news out of the way as soon as possible so we can get on to the good stuff too). So here goes…the bad news is this:
If you are finding yourself feeling more stressed out, more fatigued, more achy and sore than you used to feel,
if you find yourself looking more overweight, more out of shape, more run down than you want to look,
then the bad news is it's not going to change…
Yeah, that's right. It's not.
I know, I'll bet you were hoping that maybe "someday" it would all get better all on it's own…that maybe your work stress would just go away on its own and that maybe life at home would just get easier on its own.
I hate to break it to you, but there's no magic wand out there that you can wave so "POOF!", that time to go to the gym suddenly appears, those eating habits to slim yourself magically show up and that "Ohmmmm" gives you some peace of mind rings in your ears…
But here's the good news: YOU CAN CHANGE!
Nothing is going to change…unless you do something about it.
Your workplace isn't going to change, your home life isn't going to change, your energy levels aren't going to change, your waistline isn't going to change…unless you do something about it.
Someday never comes… unless if you make "someday"…today.
Deciding that today is the day to move towards health is the first step.
The next step is to find out how to do that.
And now I've got even better news for you: it's simpler and easier to get healthy than you think.
With the slew of health information out there, it's easy to get confused by it all. New fad diets and exercise equipment will come and go just as the "latest and greatest", "new and improved" stress relievers will soon be replaced by something else.
But the truth is, it's easy to get healthy again. You just need to know where you need to start and you need to have the right tools available for you to start working on building your health into what you want it to be.
And that's where the Being Well Lifestyles Program comes in.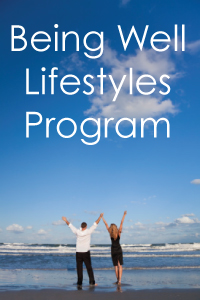 I created the Being Well Lifestyles Program to lead you through each of the 5 areas of your lifestyle and give you the tips and tools you need to make a real difference in your health.
The program is full of simple, proven and easy to implement health strategies that take the guess work out of creating a health care plan for yourself.
These principles and methods are the ones I've been teaching my patients and clients in my clinical practice for years and if they can turn the direction of their health around with them, then so can you.
The Being Well Lifestyles Program
I created this home study course to help walk you through each of the 5 areas of your health: Mindset, Exercise, Diet, Relaxation and Enjoyment.
In each section of the program, you will explore a different area of what makes up your healthy lifestyle – each filled with stories, tips, tools and processes that will teach you how to recreate your health any way you want it for yourself.
The first section is the Think Well section where you will learn 3 Health Principles that will change the way you look at your health forever and The Secret to Creating a New Healthy Habit.
The second section is the Move Well section where you will learn everything you need to know about cardiovascular exercise, strength-building exercise and stretching routines. And I will also share with you the very BEST exercise program that you can ever do that will get you all of the results you want.
The third section is the Eat Well section which is full of diet and nutrition advice that is so deceptively easy and simple that you'll be surprised at how much energy you'll get from them and how many pounds you can lose at the same time.
The fourth section is the Rest Well section which is all about how to recharge your batteries and get your energy levels up to where you feel like you're a kid again! Plus, I'll teach you the 2/3/4 Stress Formula and how to get the best sleep possible, naturally, without taking drugs.
And last but certainly not least, the fifth section is the Be Well section, and this is really what you're doing all this work for. You do (or try to do) all of these health improvement things not for health's sake on their own. You want better health so you can enjoy yourself more, so you can enjoy your family more, so you can enjoy LIFE more, right? Here we'll talk about the Power of Attitude and I'll show you how to create your Optimal Environment for Health so all of the healthy seeds you plant from the first four sections have a healthy place to grow and develop and thrive for years and years to come.
This comprehensive program that will help you build the lifestyle habits that will create a lifetime of good health is now available:
This package allows you to work with me one-on-one with all of this material.
It includes:
the Being Well Lifestyles Program eBook (in pdf format)
the Audio Book (5 hours of content delivered in mp3 format)
all of the Worksheets, Assessments and Guides mentioned in the book to help you throughout the program (delivered in pdf format)
Healing From Within – 3 guided visualizations I created to help you unleash the power of your mind to heal your body. (in mp3 format)
Plus:
2 private sessions with me personally so I can help you design your own ideal lifestyle plan and, most importantly, to help you start living it. This will accelerate your progress by giving you the individualized attention you need.
In our first session together, we will:
Discuss your current health status and determine what improvements you would most like to make immediately
Review your completed Lifestyle Balance Sheet and examine all 5 areas of your lifestyle (Think, Move, Eat, Rest and Be)
Decide upon which health habits you need to build first in order to have the greatest impact on your overall health and well-being and get you to where you want to go.
Create a Plan for you to follow for the following weeks with detailed daily and/or weekly action items based on our discussing and my recommendations. "Homework assignments" and other resources will be given to you to support your efforts during this time.
In our follow-up session, we will:
Celebrate your "wins" in the previous weeks and reinforce them into your regular health routine
Examine your challenges in the previous weeks and determine how you can do things differently in the future so that you can be successful the next time
Fine tune your Action Plan based on what worked for you and what didn't work
Discuss further health habits to build that will allow you to take your next leap forward
I will do everything I can to help make our sessions as focused, impactful and fun as possible so that you can really get a ton of value of our time together. The way I see it, my job is to listen to you, understand your needs and wants and then make the best recommendations possible that will set you up for success. Your job then, is to be open, honest and willing do to what's necessary for you to get what you tell me you want.
When we both show up in this way, you'll be amazed at how powerful even just little, but consistent changes in your daily habits can be.
the Being Well Lifestyles Program eBook (in pdf format)
the Audio Book (5 hours of content delivered in mp3 format)
– The Being Well Lifestyles Action Planner
– The Lifestyle Stress Assessment
– Food Journal Worksheet
– Gratitude List
– 100 Reasons WHY Worksheet
– Outs and Ins Exercise Worksheet
– SMART Goals Worksheet
– Things That Make Me Happy Worksheet

Healing From Within – 3 guided visualizations I created to help you unleash the power of your mind to heal your body. (in mp3 format)
the Being Well Lifestyles Program eBook (in pdf format)
The book itself contains the whole Being Well Lifestyles Program so I don't want it to get undervalued here when compared to the other packages. If budget is an issue, this is a great option for you since it's 150+ pages of health improving, stress reducing, life enhancing tools to help you regain your health and create wellness in your life.

Questions?
Which package should I buy?
That really depends on your budget. Obviously the complete package is the best because it has the most resources. But the book by itself is a fantastic choice since is it 150+ pages of tips and tools that will allow you to change the direction of your health around and to create wellness from within.
Where can I learn more about you?
You can read my posts at DrJayWarren.com about the wellness mindset, exercise, nutrition, relaxation and more. Read through the archives to learn more about my methods in clinical practice.
What if I hate it?
If you're unhappy with the book, just reply to your purchase receipt email within 30 days and I will issue a refund.
If you still have questions after reading this page please get in touch with me and I will do my best to answer them.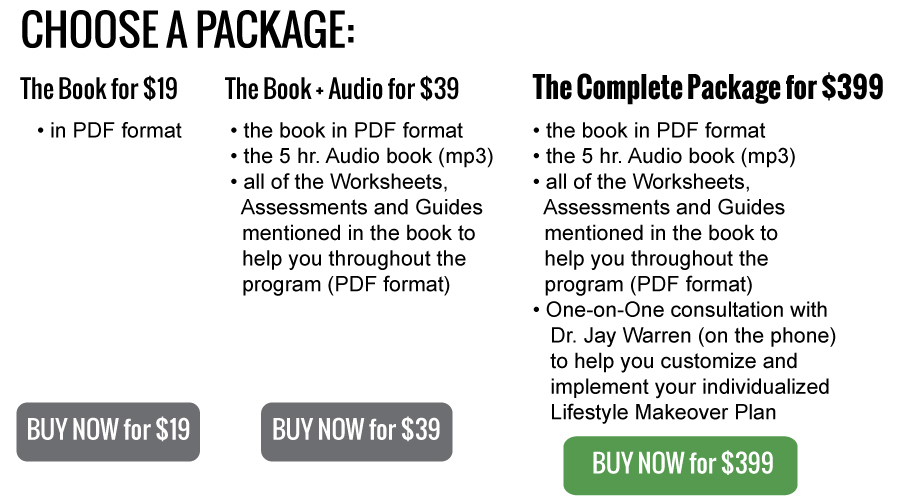 Regardless of which option you choose, I applaud you for taking this step towards better health, happiness and balance and I'm looking forward to hearing about your results!
Be Well,